Semetsi Camp
< Back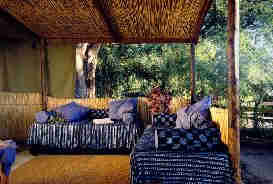 Semetsi Camp is aptly named: "Semetsi" means "place of water" and Semetsi Camp is built on an island in the heart of the lagoons of the Okavango Delta. Because the Okavango Delta is home to hundreds of bird and plant species, crocodiles, elephants, rare antelopes and other game animals, your stay at Semetsi Camp is guaranteed to be an exceptional Okavango Delta safari experience.
At Semetsi Camp you will stay in tents pitched on wooden decks with spacious beds, hot/cold showers and flush toilets. Each Semetsi Camp tent offers sunset views of the Okavango Delta and you will enjoy the birdsongs from the palm-covered islands of the Okavango Delta. The area around Semetsi Camp has natural riches beside the Okavango Delta's abundance of birdlife. The region around Semetsi Camp is teeming with elephants, hippopotamuses and lions.
With your expert safari guide from Semetsi Camp, explore the waterways and lagoons of the Okavango Delta in a mokoro (dugout canoe) to spot rare bird species such as fishing owls and wattled cranes. Embark on a walking safari through the Okavango Delta, also with an expert safari guide from Semetsi Camp
Semetsi Camp has been designed so that its construction does not damage the surrounding Okavango Delta. The lack of vehicles and electricity in Semetsi Camp adds to its atmosphere of authentic bush life.