Kubu Safari Lodge, Kasane
< Back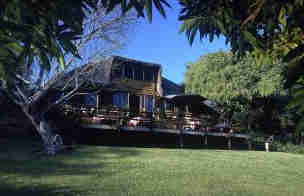 Located near the entrance of Chobe National Park and only an hour from Victoria Falls, Kubu Safari Lodge is also at the crossroads of four African countries - Botswana, Namibia, Zambia and Zimbabwe. Thus Kubu Safari Lodge is a good starting point when exploring safari destinations like the Chobe National Park.
Kubu Safari Lodge has eleven thatched wooden chalets that overlook the Chobe River. Each chalet at Kubu Safari Lodge has its own private terrace and en suite bath and toilet facilities. Other luxuries at Kubu Safari Lodge includea restaurant with extended balcony overlooking the Chobe River. Luscious home cooked meals are served at Kubu Safari Lodge's restaurant. Kubu Safari Lodge has a private swimming pool, overlooking the Chobe River, with a canopy of native trees.
Less than two kilometres away from Kubu Safari Lodge is a hot spring, for those who crave a different bathing experience. One unique safari experience that you can enjoy at Kubu Safari Lodge is a trip to a crocodile camp near Chobe National Park that is home to Nelson- believed to be one of the largest and oldest crocodiles living in captivity.
Activities on offer at Kubu Safari Lodge include walking trips into Kubu Nature Trails and Chobe National Park, fishing, game drives and boat cruises into Chobe National Park. Kubu Safari Lodge also offers day excursions to Victoria Falls.