Gunn's Camp Botswana
< Back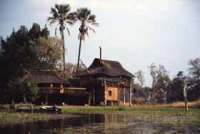 For keen photographers and wildlife enthuasists who want to view the abundance of game and birdlife in the Okavango Delta, Gunn's Camp is the ideal Botswana safari camp.
Set under lush palms of the Okavango Delta, Gunn's Camp has seven Kenyan-style tents and a thatched honeymoon chalet. Each tent at Gunn's Camp is furnished with twin beds and en suite bath and toilet facilities.
Meals at Gunn's Camp are served combining the earthy ambience of a bush camp in the Okavango Delta with the service and finery of a hotel. Gunn's Camp elevated dining area has sweepings views of the Moremi Game Reserve and the Okavango Delta. From this part of Gunn's Camp, you can enjoy your meals while viewing several species of African wildlife. Gunn's Camp also has a curio shop.
For the comfort of its guests, Gunn's Camp has a swimming pool- the perfect place to escape the heat of the African midday sun, or to relax after a day of exploring the Okavango Delta around Gunn's Camp.
Safari activities that offered at Gunn's Camp are mokoro (dugout canoe) or powerboat excursions into the labyrinth of channels and waterways of the Okavango Delta, as well as game and bird walks on the islands that adorn the Okavango Delta.