Delta Safari Camp
< Back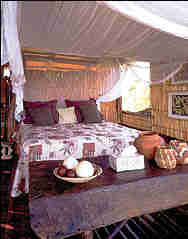 Located on Chief's Island, Delta Safari Camp overlooks the Okavango Delta- acknowledged to be one of the world's pristine wilderness areas. The surroundings of Delta Safari Camp and Chief's Island are home to game animals, rare antelopes and countless plant and bird species. Because of its prime location on Chief's Island, Delta Safari Camp is a safari paradise.
Delta Safari Camp takes great pride in highly personalised service. For camping trips around Chief's Island or nearby islands, a guide will accompany you to help you set up your campsite and build you a fire. Delta Safari Camp's kitchen staff will prepare several meals for your trip.
Delta Safari Camp can accommodate a maximum of 16 people in reed chalets made from African materials with en suite bath and toilet facilities. Delta Safari Camp's cuisine consists of fresh meat, vegetables, cheese and wine that are flown in daily to Delta Safari Camp's airstrip on Chief's Island.
The emphasis in your stay at Delta Safari Camp is to enjoy the tranquility of Chief's Island. Dine on the wonderful cuisine in Delta Safari Camp's comfortable dining area with views of the Delta, or indulge in intimate picnics under the cooling fronds of palm trees on Chief's Island or adjoining islands.