Motsentsela Tree Lodge, Maun Botswana
< Back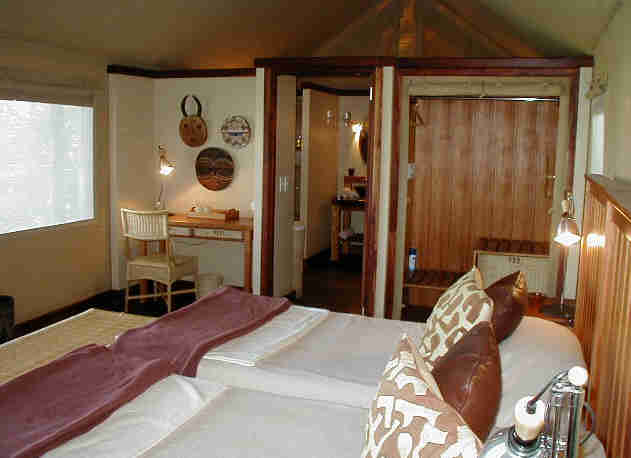 Until recently, the choice of accommodation in Botswana's gateway safari town of Maun, was not up to the standards of the safari lodges in nearby Okavango Delta. That has changed and you can now start and end your Okavango safari with a couple of nights at Motsentsela Tree Lodge in Maun. This delightful safari lodge has taken all the best elements of a tented safari camp and put it into Motsentsela Tree Lodge (locally known as 'Tree Lodge'). Carrie Hampton spent a night at Motsentsela Tree Lodge and is of the opinion that, "There isn't any accommodation in Maun that will help you slip into safari mode better than Motsentsela Tree Lodge." Read on to find out why...
SLIP INTO SAFARI MODE
Motsentsela Tree Lodge has seven tented safari rooms and two honeymoon suites, that are so far from camping it's not funny. They are so stylish and comfortable, that you just hope your next safari lodge in the Okavango Delta will be this good. Maun is the base town from which most Okavango Delta safaris start, and to avoid the rush of connecting flights both inward and outgoing, I recommend breaking into safari mode slowly with a night or two at Motsentsela Tree Lodge.
Classically simple yet effective, is the impression you get at Motsentsela Tree Lodge, but it is not always as simple as you think to achieve that impression. For example, who would have thought of looping calico curtains onto a metal rod across the flyscreen windows of a walk-in safari tent. The effect is homely and comforting. The large bed is plied with soft cushions on top of crisp white linen, that just makes you want to leap on it. Motsentsela Tree Lodge safari tents are designed with the bed centrally positioned against a false wall, facing out towards the African bush. Bedside tables and wall mounted attractive reading lights create a feeling of permanency, as does the free standing colonial bath tub and double sinks on the reverse of the wall. This clever design gives the canvas safari room a spacious and airy feel, while providing more home comforts than you might expect. Additional thought has gone into the closed off toilet and outside reed-enclosed shower. The high canvas walls are set upon a wooden floor scattered with coir mats, which leads out onto your own private deck. The most recent addition to Motsentsela Tree Lodge are the two new thatched honeymoon safari suites set discreetly the trees, offering a bit more luxury and privacy.
BEST SAFARI CAMP DESIGN
The rooms at Motsentsela Tree Lodge are certainly some of the most attractive I have seen in a tented safari camp and the reasons why became apparent when I spoke to the owner Brent Dacomb. It appears Brent has designed and built many safari camps in the Okavango Delta and elsewhere, and when it came to building his own safari camp, he just selected all the best design features and incorporated them into Motsentsela Tree Lodge. For once, here was someone able tap into hindsight to get the best possible result.
The main lodge area of Motsentsela Tree Lodge is an open plan thatch affair with doors opening onto a large teak deck shaded by a Leadwood and Birdplum tree, under which meals and drinks are often served. Wooden table sand chairs scatter the deck, while a large brown leather sofa and easy chairs with African fabric cushions invite you inside to flop into them, while your drinks are being poured at the bar. Dining is also an open affair, where you are likely to chat over fresh and tasty food with the other guests at one big table.
WALK AMONGST ZEBRA
A great expanse of African bush is right on the doorstep of Maun, and Motsentsela Tree Lodge has its own patch, which is roamed by zebra, springbok, kudu, and I am sure I saw a few cattle and horses too. There are also some rarely-seen nocturnal aardwolf and aardvark, which if you see them, will put you amongst the lucky few. Brent has created some walking trails through the 200 hectare game farm, which you can explore on your own. You could of course just relax by the very cute pool. Whatever you do, Motsentsela Tree Lodge should be your preferred accommodation when landing in Maun at the start of your Botswana safari.
© Carrie Hampton 2004. This article is written by travel writer and safari specialist Carrie Hampton, who is under no obligation to state anything other than her personal opinion. This article may not be reproduced in any form without permission. Feel free to contact Carrie on: carrieh@iafrica.com.