Victoria Falls, Zimbabwe
< Back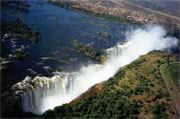 Victoria Falls is a fairly non-descript town with one major drawcard; its proximity to the thundering smoke of the waterfall by the same name. Victoria Falls is also the name given to the National Park surrounding this seventh wonder of the world. The local Batonga people named the falls Mosi-Oa-Tunya, "the smoke that thunders". This was renamed Victoria by Livingstone after the queen of the day as he marvelled at "scenes so lovely (they) must have been gazed upon by angels in their flight."
The town has also been renamed the "Adrenaline Capital of Africa". Adventure sports such as bungee jumping, white water rafting, canoeing and bodyboarding at the base of the falls offer visitors an alternative African experience. For those less adventurous souls, there are sundowner cruises that pass by hippopotami whilst the guests sip their "G&Ts". You can also have the view of an angel in a tandem microlight, helicopter or light aircraft.
Victoria Falls, at a width of 1708 meters, is the largest curtain of water in the world, over which the Zambezi River flows a vertical distance of 90m to 107m. In peak season over 500 000 cubic metres of water plummet over the edge into the Zambezi Gorge every minute. The river also narrows dramatically at this point making it ideal for white water rafting.